Stage for Children & Teens – Wednesday
Wednesday stage will re-start next September 2019 …hurry up to register !
Diving course for children. For all children who know to swim (at least 50 meters). Wednesday's course is essentially fun. It can also (as option) be subject to a Padi international diving certification.
What is the planning of a stage the Wednesday:
1:45 pm – Meeting at the Sportcity swimming pool
14h00 – Beginning of the stage: during the first session a first briefing presentation and security is made to children / teenagers. It will be followed by a full explanation of the diving equipment and the allocation of equipment. The children / teens will then test their basic material (fins, mask, dive suit). In turn – at the rate of two children / teenagers maximum per instructor – they will do their diving discover and thus their first bubbles.
The activities will continue until 3:15 pm. It will be time to store the equipment and join the locker room. Diving equipment is a material requiring special care to ensure safety.The care and respect of the equipment is also part of the diver's learning.
15h30 – End of the stage
What are they doing during stage:
During the following sessions, your child / teen will participate in the assembly of his diving equipment.
Activities will include:
learning the basic techniques of diving,
apnea techniques,
various games
assistance and first aid techniques.
Depending on the level, size and abilities of the group, your child / teen will spend about 1 hour in immersion (which is the usual time of a real dive at sea). The rest of the time is spent preparing equipment, warming up, maintaining and storing equipment. All these steps are part of the dive training.
On Friday, the last day of the stage, activities will be more fun, including: testing of various equipment, testing of professional equipment, use of underwater scooter, underwater games.
A diving course and after?
Your child is over 10 years old, he may have already participated to a diving stage, he can prepared the Open Water Junior Diver PADI.
The course is given on 5 sessions of theory and practice swimming and will have to be completed by 4 dives in the sea or quarries or lakes with us or in any PADI center of the world within 1 year following the end of the courses in the swimming pool. Therefore Your child will be able to participate in the weekend's diving trips.
Your Children & Teens will love this diving stage in all safety!
Information & registration:  patrick@divebda.be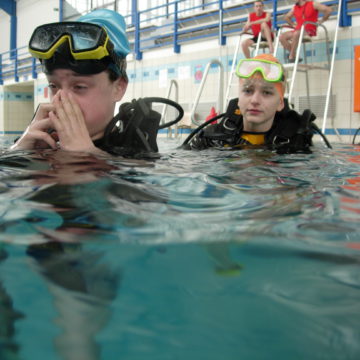 Stage for children & Teens the Wednesday afternoon
Have fun learning to dive !
Sporcity Pool, 2 avenue Salomé – 1150 Brussels
Meeting at the swimming pool at 13:45 on Wednesday afternoon
Optional: preparation of Padi diving certification: Open Water Diver jr
Possibility of  dives during the weekend (for certified divers)
Registration and info: patrick@divebda.be