Diving PADI certifications for Children & Teens – Wednesday
Diving course for children. For all children who know to swim (at least 50 meters) and are 10 years old.  The course  delivers a Padi international diving certification.
How is the PADI Jr Open Water Referal Diving Course
Each participant will receive a Padi Open Water book with 5 chapters. He will have to study at home each respective chapter before the course.
1:45 pm – Meeting at the Sportcity swimming pool
14h00 – 14h45: academics part – Revision of knowledge
14h45 – 15h30: swimming pool – Evaluation of knowledge
During the last session, the participants will have to take part in a theoretical exam (15h30 -16h30) to check the acquisition of the important notions.
And after their PADI Jr Open Water Referal certification ?
The course Jr Open Water Referal is given on 5 sessions of theory and practice swimming and will have to be completed by 4 dives in natural environment carried out with us or in any center PADI of the world within 1 year following the date end of the swimming pool. Your child will be able to participate in the weekend's diving trips.
A Diving course which will occupy your children / teens well and will please them a lot … and give them access to a world of new adventures!
Information & registration:  patrick@divebda.be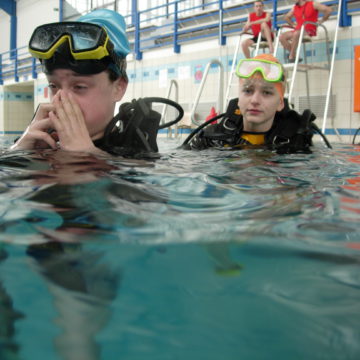 Diving Certifications for children & Teens - Wednesday afternoon
Have fun learning to dive !
Sporcity Pool, 2 avenue Salomé – 1150 Brussels
Meeting at the swimming pool at 13:45 on Wednesday afternoon
Preparation of Padi diving certification: Jr Open Water Diver
Possibility of  dives during the weekend
Registration and info: patrick@divebda.be