Diving PADI certifications for Children & Teens
Diving course for children. For all children who know to swim (at least 100 meters) and are 10 years old.  The courses are done during the diving courses during the holidays. The course  delivers a Padi international diving certification.
How is the PADI Jr Open Water Referal Diving Course
The Jr Open Water Referal course is given over 5 pool practice sessions and a theoretical course given on the Internet. Each participant will have access to the E-learning Padi. He will be able to follow the different theoretical lessons at his own pace and at his ease. This Referal Open Water Jr Padi course will need to be completed with 4 open water dives completed with us or at any PADI center worldwide within 1 year of the pool course end date. Your child will then be able to take part in the Weekend diving trips.
A Diving course which will occupy your children / teens well and will please them a lot … and give them access to a world of new adventures!
Information & registration:  patrick@divebda.be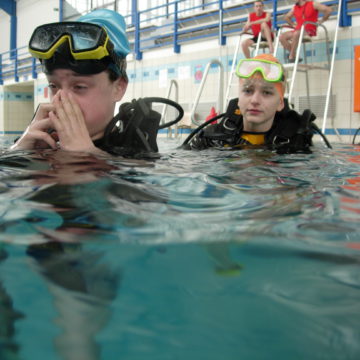 Diving Certifications for children & Teens - Wednesday afternoon
Have fun learning to dive !
Sporcity Pool, 2 avenue Salomé – 1150 Brussels
Preparation of Padi diving certification: Jr Open Water Diver
Possibility of  dives during the weekend
Registration and info: patrick@divebda.be